Old Orchard Beach has been a seaside vacation haven for centuries. Our seven mile stretch of sand and the famous landmark Pier in the center have brought sunshine and smiles to generations of families. Old Orchard Beach is an exciting resort town, with plenty to see and do, or you can do nothing at all but sit on the beach and enjoy Maine's natural beauty.
Old Orchard Beach is ideal for a family vacation. There truly is something for everyone. First, there's seven miles of sandy beach just yards away from our Executive Motel. You could spend days exploring the sandy shore, sunning yourself or walking the sandy strand, tossing a Frisbee or surfing in the waves. You will quickly see why Old Orchard Beach is named Maine's best beach every year by local Mainers.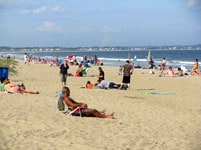 But if you want more action and attractions – Old Orchard Beach is the place for kids and the kid at heart. Our seaside amusement park, the last of its kind in New England, has thrilling carnival rides, games, fried dough and cotton candy, waterslides, arcades, even a beautiful hand-painted century-old Carousel. Palace Playland is located on the beach, so you can see the sea while you ride the Ferris Wheel.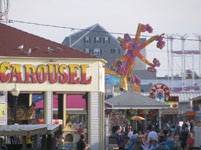 The Pier is the centerpiece of the beach and the hub of all things fun in Old Orchard Beach. Restaurants, nightclubs, and shops line the historic Pier that juts out over the water. The people watching at Old Orchard Beach's Pier is the best, the fireworks every Thursday night are even better.
If you are looking for the quieter side of Maine, then you can kayak or canoe a scenic salt water marsh, Scarborough Marsh is just a short drive away with plentiful wildlife and birds. Or visit a working fishing village at Pine Point and explore the jetties and tidal rivers as you fish for striped bass.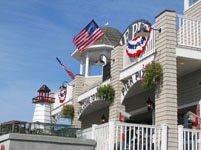 If you long for an old fashioned seaside community complete with an authentic soda fountain, then visit the quaint town of Ocean Park.
Just a short drive from the Executive Motel, you will also find championship golf courses, mini-golf, movie theatres, and more amusement parks and water parks.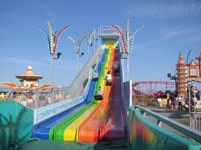 Old Orchard Beach offers more than you can do in week, but remember you can also come to the Executive Motel and do nothing at all – just enjoy the beach and our heated outdoor swimming pool.
Our Beach just 100 yards from the Executive